4/12 Days Of Blogmas: Local Honey Holiday Lookbook
4/12 Days Of Blogmas: Local Honey Holiday Lookbook
It's the forth day of my 12 Days of Blogmas and I'm so excited about this post. Today is the collaboration with Local Honey which is a small boutique in SWFL. The reason why I love this store so much is that there are not that many in store options for us in SWFL. A lot of businesses have shut down or I have to shop online which sometimes is a hassle. Local Honey is Located at Coconut Point Mall in Estero Florida, plus you can shop online if your are not located here. I just love it so much. So heres my 4/12 Days Of Blogmas: Local Honey Holiday Lookbook
Also, if you want to get yourself some cute clothes use my code "claudie" to get 10% off of your Local Honey purchase! 
DISCLAIMER! This page may contain some affiliate links. If you choose to purchase after clicking a link, I may receive a commission at no extra cost to you.
4/12 Days Of Blogmas: Local Honey Holiday Lookbook
Before we get into the outfits I want to say that there are some outfits that I had already in mind before I did the shoot. There were some that Jolene, the owner thought would be cute and some outfits were put together last minute. This was all(except for one) shot in a day which was a lot but worth it.
This is actually the first outfit that I shot for the day. Jolene wanted me to try on this silk blouse that is tied in the front. She was saying that when people say it they didn't know how to style it and wanted some ideas. I think that what help me today was the type of bra I was wearing from Adore Me. With this top you need to wear a bra that looks like it could be apart of the outfit. Something you don't mind showing off. Now lets talk about the pants. These plaid pants fits my body so well. I love that is high waisted so that it fits my curves. Its so comfortable and cute. The shades are also from Local Honey I bought them maybe over the summer. I literally wear these every time I leave the house.
You can use my code "definingmyessence19" for $19.99 of of your first VIP set at Adore Me
This is the outfit that I got inspiration from one of Jolene's Instagram stories.  She was doing an outfit of the day and paired a long black this cute brown romper and out course the boots. The romper and the boots are of course from Local Honey but I got the coat from Ross. Let's talk about the boots. These leather boots are my absolute favorite. They are so comfortable to walk in and I feel like you can wear these in any season.
I know that you guys have seen this blazer before in my Fall Fashion Staples but I think that you can use this for  a holiday look as well. When I got to the store Jolene asked if I brought the blazer because she thought it would go perfectly with the brown romper from look 2. I really wish i would have though about that before because they would really go nice together. What I love about this blazer is that there are so many looks you can do with it. In the picture you can only see the white and brown stripes but it also has yellow, blue and green. This makes it easy to add a pop of color if you want.
I love everything about this outfit. This pink sweater is so cute. I have the ends tucked into my bra which was Jolene's suggestion and I will be doing that more. Mini skirts usually sit weird on my body but I love that this is high waisted and still long enough. I usually have a problem with the back of some skirts being shorter than the front, but this is longer in the back so it covers you. You know I love a good boot and these white cowboy boots are perfection. Lately, I've been stying my outfits around the boots. Like the black boots these are so comfortable.
So this look is the last minute one. I brought myself some christmasy scarfs just in case I found an outfit to pair with it when I got to the store. I found this white blazer  and paired it with the skirt from look 4. The blazer is a large which is perfect if your going for an over-sized look. This look is the perfect outfit to wear at a Christmas party.
Sneak Peak Of My Christmas Photo
So here's a sneak peak of the photo I'm post on Christmas day. When I saw that Local Honey had is romper I immediately knew that I needed to pair it with my reindeer antlers I got form the dollar store. Jolene was sweet enough to let me use her Christmas tree and presents in the store.
Meet The Owner: Jolene Smith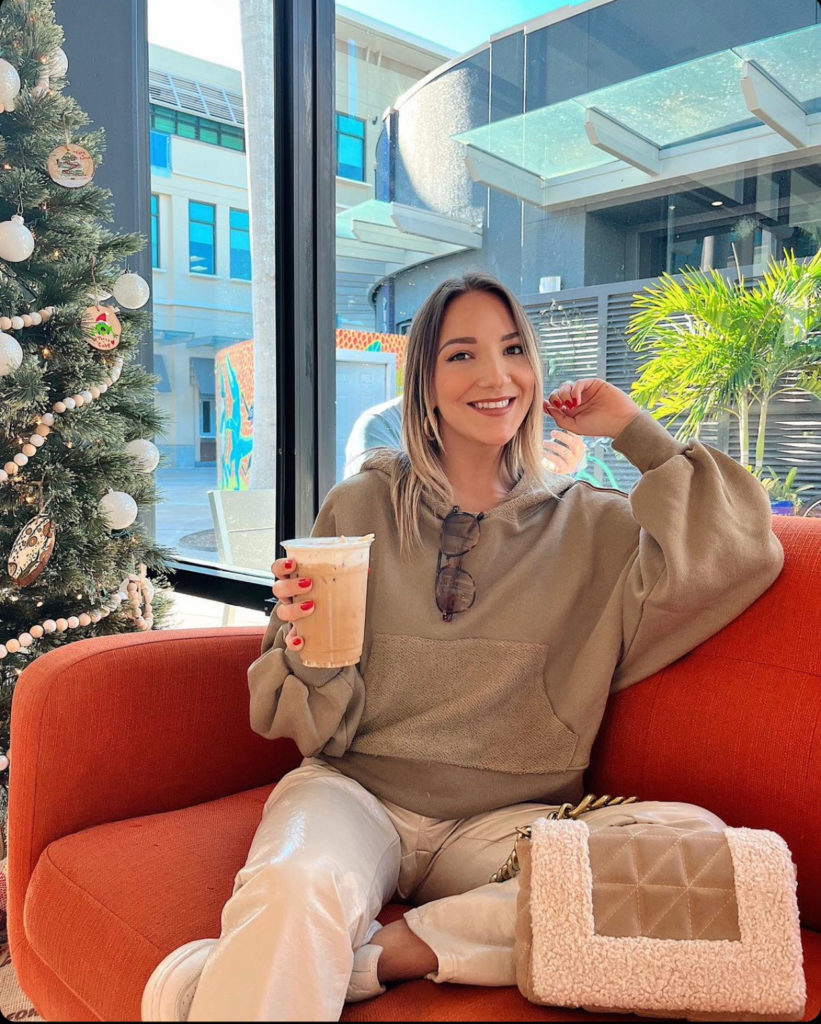 Jolene is originally from Minnesota but has lived in SWFL for 7 years now. She is passionate about fashion and empowering women through their clothing. Local Honey began and still operates as an inclusive space for women to connect with each other and find trendy clothing that makes them feel confident.
Jolene really is the sweetest person and you can really tell she loves what she is doing with Local Honey. 
I hope that you have enjoys my 4/12 Days Of Blogmas: Local Honey Holiday Lookbook. Once again you can use my code "claudie" to get 10% of you order at Local Honey. What is your favorite look? Let me know in the comments below!